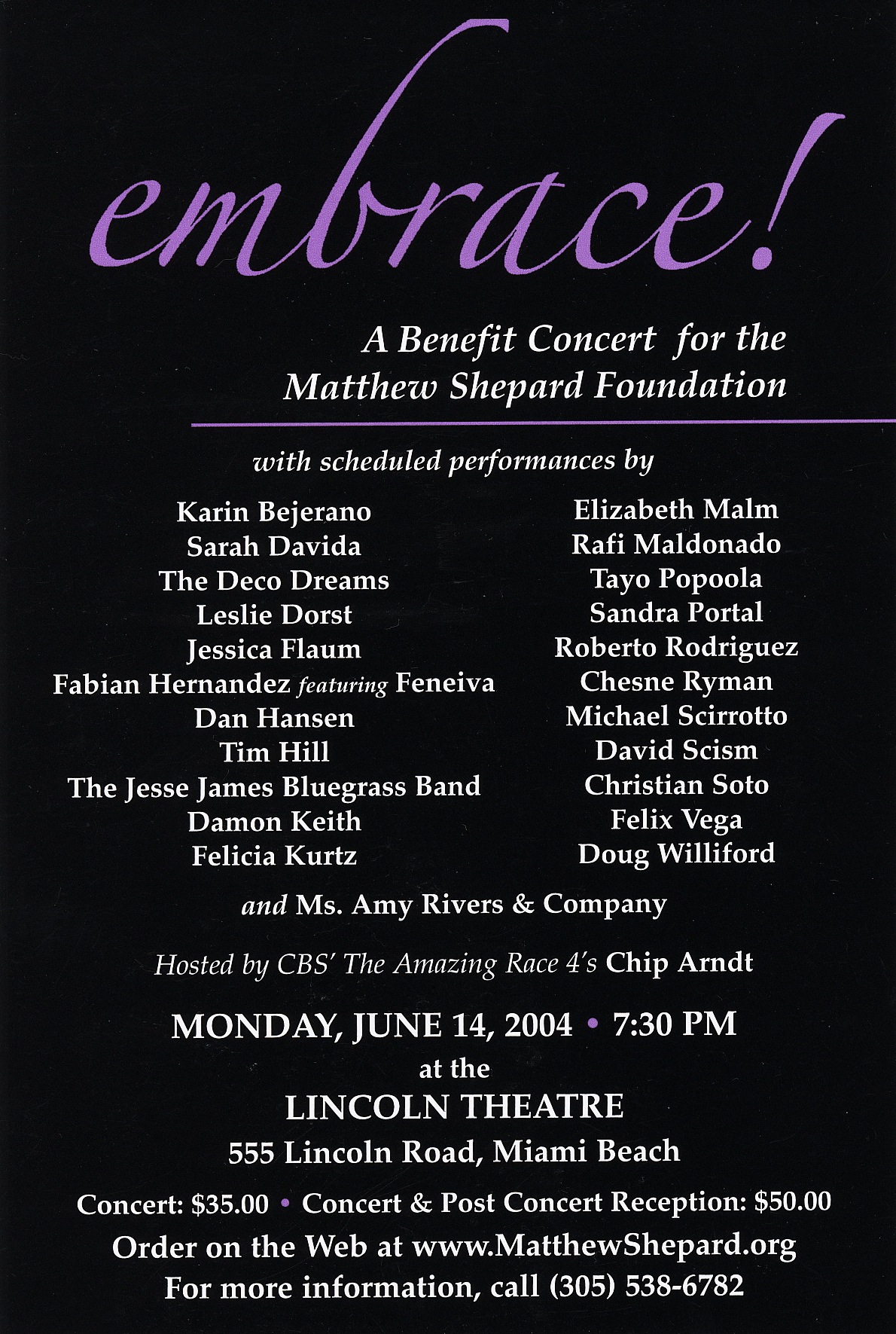 ABOUT THE SHOW
Host committee members
Patrice Bailey, Dean of Theater, New World School of the Arts
Rem Cabrera, Chief of Cultural Development, Miami-Dade County Cultural Affairs
Charles Cinnamon, Arts Consultant
Elysze Held, Arts Advocate
Michael McKeever, Playwright
Edward Villella, Founding Artistic Director, Miami City Ballet
Susan Westfall, Founder, City Theater
are happy to announce that tickets are now on sale for Embrace!, a one-night-only concert on Monday, June 14th, at the Lincoln Theater on Miami Beach, to benefit the Matthew Shepard Foundation. The event will feature songs that celebrate diversity, inspiration and hope.
Embrace!, conceived and first produced in February in New York City, was the first major New York theatrical event to benefit the Matthew Shepard Foundation. Hosted by legendary performer/director/writer, Charles Busch, the concert featured multiple Broadway stars and raised over $10,000.00 for the Foundation.
For the Miami concert, Chip Arndt, co-winner of CBS' The Amazing Race 4, will serve as the evening's host. After-party hosted by The Abbey Hotel.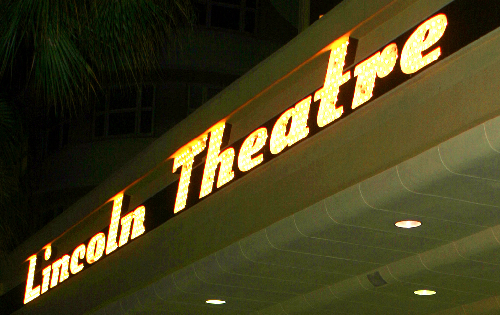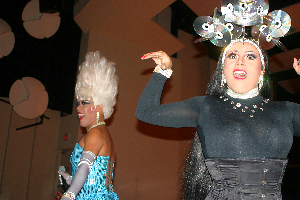 Amy Rivers and Shanaya Bright, along with friends, open the concert with "Lets Get Soaking Wet."
Ms. Amy Rivers & Company perform for standing-room-only crowds every Friday, Saturday and Sunday evening at The Palace Food Bar on Ocean Drive.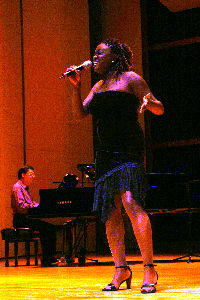 Taya Popoola singing "Waiting for Life" from Once On This Island.
Tayo Popoola, originally from New York City, studied at the Professional Performing Arts School. While majoring in vocal and musical theatre, Tayo performed at Madison Square Garden, Carnegie Hall for Duke Ellington's family, the Waldorf Astoria, The Today Show, and for Henry Winkler, R&B star Tyrese, Michael Feinstein, and former president Bill Clinton. Tayo has appeared on Broadway in Elton John and Tim Rice's AIDA, and productions of Pippin, Once On This Island, and Hair. Tayo is currently a junior at Barry University in Miami Shores.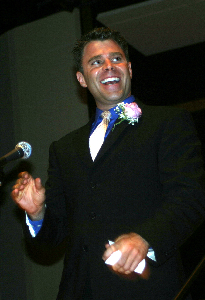 Host Chip Arndt, co-winner of CBS' The Amazing Race 4.
Chip Arndt, business and life management consultant, with an MBA from Harvard, and his race partner, Reichen Lehmkuhl, beat eleven other teams, winning the $1 Million top prize of the 2003 edition of CBS' The Amazing Race. Chip and Reichen made history by being the first openly gay couple to win. They insisted that CBS identify them as "married," a label that incited protests from religious extremists. They emphasized their determination to be positive role models for others who are gay, and to demonstrate to viewers that there are many more types of gay men than are typically seen in the media. Their popularity rating rose and rose, and after four continents, 24 cities, and 44,000 miles, they had become household names and heroes to millions.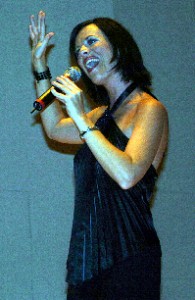 Leslie Dorst singing "Here Comes the Ballad."
Ms. Dorst also performed a song entitled, "Joy."
Leslie Dorst, with a Bachelor of Music in vocal performance from Belmont University in Nashville, has been featured in regional productions of theatre, opera, revues and cabarets in the Southeast and on cruise ships, and can be heard on several studio recordings. She has choreographed, directed and conducted various musical theatre productions and choirs and has worked for many years as a featured soloist and section leader of church choirs. Leslie earned her Masters of Music in vocal performance at the University of Miami. Currently, Leslie sings with the Florida Grand Opera Chorus and is a cantor at St. Ann's Catholic Church in Naples, Florida. Ms. Dorst teaches at Barry University, the University of Miami, and the music theater division at New World School of the Arts.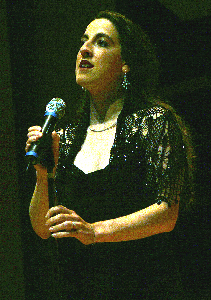 Sarah Davida singing "Never Never Land" from Peter Pan.
Ms. Davida also performed "You'll Never Walk Alone" from Rodgers & Hammerstein's Carousel.
Sarah Davida is originally from the Boston area. Stage credits include: Miami's Trap Door Theatre's Boston Marriage, The Philanthropist, The Big Funk, and NYC's Collision Theory's Dance, My Darling, Dance. Readings include: Unreasonable Doubt with the Caldwell Theater Company and Pains of Youth with the Juggerknot Theater Company. Sarah has choreographed for dance and theater in Miami and NY, and has a B.F.A. in Music Theater from New World School of the Arts with additional studies at the Royal Academy of Dramatic Art in London, England and the Centre Lyrique in Provence, France.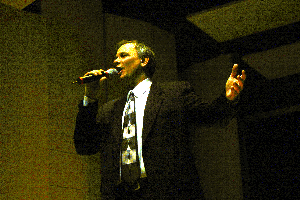 David Scism performing "Be A Lion" and "Believe" from The Wiz.
David Wayne Scism has performed since childhood when cast as Oliver Twist in the Broadway musical Oliver. Many musicals, theme parks and cruise ships later, David is an accomplished cabaret performer and recording artist. A new CD entitled "Classic Songs, Classic Times" – a collection of standards – will be released this summer. David is the program director for NorthPark, A Classic Residence by Hyatt in Hollywood, and was the 2003 National Manager of the Year.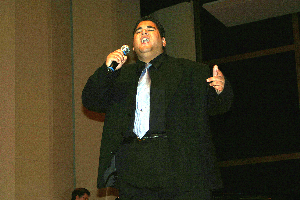 Christian Soto performing "Make Them Hear You" from Ragtime.
Christian Soto began as a boy soprano at the Cathedral of St. John the Divine in NYC, performing with Judy Collins, Douglas Fairbanks, Jr., Peter, Paul and Mary, Art Garfunkel, and Paul Winter. He's performed with FIU's Symphony Orchestra, Concert Choir, Miami Master Chorale, University Men's Chorus, and Opera Workshop. Recent stage credits include: Guys and Dolls, Introductions and Goodbyes, The Long Christmas Dinner, Iolanthe, Mignon, Albert Herring, Fidelia, Idomeneo, and The Secret Marriage. Christian teaches at Barry University, New World School of the Arts, and Miami Dade College.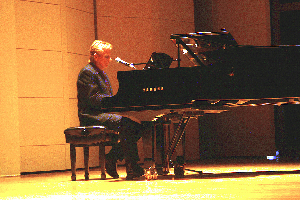 Dan Hansen performing an original song entitled "Celebrate Life."
Dan Hansen dedicates tonight's performance to the loving memory of his father and to all others who have been traumatized by hate crimes. "Celebrate Life" was written on the day of his father's funeral. Musical accomplishments include: Gilbert and Sullivan's, Pirates of Penzance with South Florida Light Opera, soloist in numerous South Florida churches, currently, at All Saints Episcopal Church in Fort Lauderdale, and member of Noel Vocal Quartet, performing seasonal shows, now in its ten year anniversary. For five years, he performed with Boca Pops, three years with Sunshine Pops and ten years with Nova Singers.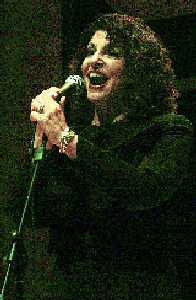 Felicia Kurtz performing a medley of 1930's songs.
Felicia Kurtz, a graduate of the University of Michigan, holds degrees in Voice Performance and Music Education. Professional experiences: performances in national and international opera companies, lead roles in Gilbert & Sullivan Operettas, Musicals and Musical Theater Revues, Cantorial soloist. Ms. Kurtz was the understudy for Cleo Laine and performed in Kurt Weil's Seven Deadly Sins with both Laine and husband/ bandleader John Dankworth. Currently an adjunct professor of music theater at New World School of the Arts, she teaches music theory and private voice. Ms. Kurtz resides in the Falls with her husband and three children.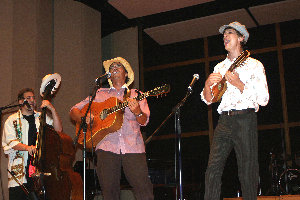 The Jesse James Bluegrass Band performing "Katie Daly."
The band also performed "Way Down Town" and "Sorry Country Blues."
The Jesse James Bluegrass Band consists of principals Jaime Cevallos and Jesse Jackson, along with supplemental musicians. Jackson, born in Wisconsin, is the son of painter Harry Jackson. In 2001, he traveled south and ended up in Martin, KY. Jaime Cevallos was born in Philadelphia, PA. Although not popular there, at the age of eleven, he heard bluegrass music in a car ride to church and began practicing the next day. Later, he too headed south, ending up in Martin, KY, where he met Jackson. Hoping to get more of an audience in Miami, they traveled there, where they've lived for two years, before hopefully heading to Nashville.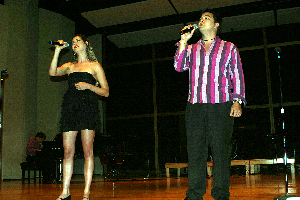 Jessica Flaum and Damon Keith perform "Wheels of a Dream" from Ragtime.
The duet also performed Celine Dion and Andrea Bocelli's "The Prayer."
Jessica Emma Flaum is currently studying music theater at New World School of the Arts, where she will receive her B.F.A. degree. She has been in the performing arts since age six and has performed professionally in South Florida and Boston. Favorite roles include Cathy in The Last Five Years and Eliza Doolittle in My Fair Lady. Jessica is honored to have the opportunity to collaborate with such talented people and be a part of this great cause.
Damon Keith is currently finishing his B.F.A. in Music Theater at New World School of the Arts, after having attended Daytona Beach College and Florida State University. Most recently seen as Leon Czolgosz in Sondheim's Assassins, in past years, he has performed in summer seasons with Seaside Music Theater in Daytona. He'd like to thank the Theater Arts League and NWSA for their support. He extends love and thanks to his family for their undaunted support of his epic scholastic career.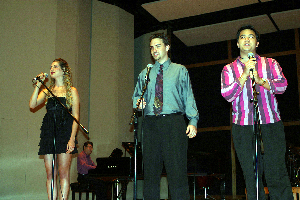 Jessica Flaum, Tim Hill, and Damon Keith perform "Louder Than Words"
from Jonathan Larson's musical, Tick Tick Boom.
Mr. Hill also performed "One Song Glory" from Jonathan Larson's Rent.
Tim Hill is a Music Theater major at New World School of the Arts and is proud to have the opportunity to participate in this wonderful event. Stage credits include: Guys and Dolls, Bye Bye Birdie, Hair, The Nothing Like Vaudeville Show, A Grand Night for Singing, and She Loves Me. Tim would like to thank his family for their unconditional support and love. Special thanks to Dr. "C", Ed Walker, and Matt May. And an extra special thanks to my Sweet Pea. "You make my heart smile!"
 Fabian Hernandez and band Feneiva performing original song, "September Rain."
The band also performed original song "Manana," as well as the concert's finale, Boyzone's "No Matter What."
Fabian Hemandez featuring Feneiva. Fabian Hernandez was born and raised in Bogota, Colombia. Music found him at an early age, followed by acting. Fabian has been featured in films such as The Crew with Burt Reynolds and Richard Dreyfuss, and the TV show, CSI: Miami. He has appeared in numerous national commercials and music videos and is currently the new face for the United Colors of Benetton. Four years ago, Fabian formed Feneiva with guitarist Angel Batrez, drummer Nikki Heiland, and bassist Marcos Rodriguez. Feneiva has appeared in venues throughout Dade and Broward Counties, and for two years, has played for the American Cancer Society, and is proud to be part of tonight's event.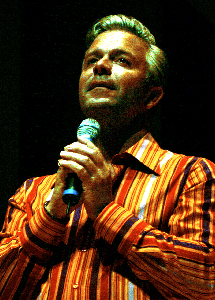 Doug Williford performing "A New World" from Jason Robert Brown's Songs For A New World.
Doug Williford, has appeared in productions of The Pajama Game, Last of the Red Hot Lovers, Blood Brothers, Rocky Horror, Falsettos, Company in Concert featuring Polly Bergen, Carousel, Wonderful Town, and Jon and Juan's Wedding. He has performed his cabaret shows "Take Me Back" and "This Moment" throughout South Florida. Doug serves as Co-Artistic Director for Creative Arts Enterprises, Inc., which presented Jon and Juan's Wedding and Bed, Boys and Beyond, as well as the Lavender Footlights play reading festival. He is the Artistic Director for the South Beach Gay Men's Chorus.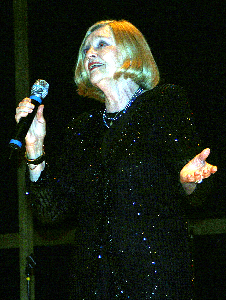 World-renowned soprano Chesne Ryman performing a medley of Gershwin classics.
Chesne Ryman, born in Sydney, studied at the Conservatoriurn of Music, then joined the Elizabethan Trust Opera, forerunner to the Australian Opera Company. After four years, she moved to London, continuing studies and performances throughout Europe before returning to Australia to sing at the Royal Performance opening of the Sydney Opera House, performing the "Queen of the Night" in The Magic Flute. She was head of the Vocal and Opera department at Nordic Music Conservatorium in Stockholm for 10 years before she was recruited by New World School of the Arts in 1988. She has now returned as an adjunct voice teacher.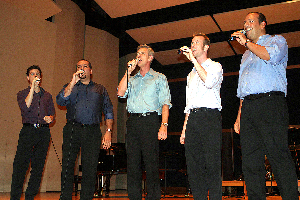 The Deco Dreams performing "Walking My Baby Back Home."
The Deco Dreams, an a capella quintet, was born last year within the South Beach Gay Men's Chorus. They are Elliot Pilshaw, Brian Shaw, Peter Reinoso, Christopher Rieder and Tom Robertson. Their songs are a brew of pop and folk/rock, jazz, doo-wop and barbershop. They hope to empower gay people to be visible and proud, and to build bridges of understanding and acceptance among people from all walks of life. They accomplish this by being genuine, and opening hearts and minds through music with universal appeal, breaking down barriers, and bringing people together in an atmosphere of tenderness. Inspired by the sounds of Take Six, Sweet Honey in the Rock, and the Manhattan Transfer, they cover songs by artists as varied as Jerome Kern, Elton John, The Beach Boys, Holly Near, Neil Sedaka, Cris Williamson, The Carpenters, Paul Simon, The Indigo Girls, and Mama Cass.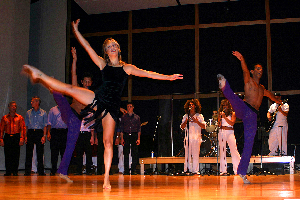 The entire company performing Boyzone's "No Matter What."
Sandra Portal studied with Madelyn Alfonso at the Mirochnik Ballet Institute and later in the Vaganova Tech. with Ballet Master Vladimir Issaev. Under his direction with the Arts Ballet Theater of South Florida, she performed as a soloist in The Nutcracker, Le Corsaire-Pas de Trois, Ballet Concerto, and Suite of Waltzes, No. 1. With a B.F.A. in Dance and minor in Mass Media from Florida State University, dance credits include: Momentum Dance Co., Ballet Theater of Miami, Giovanni Luquini & Dancers, Carlos Ponce, the Super Bowl, Sabado Gigante, and Republica Deportiva. Regional commercials include: Mervyns, Eastern Financial Bank, Bealls, and voice-over work for TV.
Roberto Rodriguez trained at Ballets de San Juan, then at the School of American Ballet in NYC. A former principal dancer with Ballets de San Juan, lead roles included: Swan Lake, Coppelia, Don Quixote, Cinderella, Nous Sommes, La Fille Mal Cardee, Carmen, The Nutcracker, Giselle, Firebird, Sleeping Beauty and Les Sylphides. Theater credits include: Ballet Teatro de Puerto Rico, Aleph Productions, Pabellon Productions, Tespis Productions and Arlequin, Inc. Choreographic and production credits include: El Flautista de Hamelin, El Zarro, Los Cuentos de Beatrix Potter, Midsummer Night's Dream, Nuestra Navidad, Jack and the Beanstalk, and El Principito.
Karin Bejerano, with a B.F.A. from SUNY Purchase, studied at the Martha Graham School, David Howard Dance Center, and Broadway Dance Center. Modern dance credits include: Houlihan & Dancers and Ballet Randolph. Stage credits include: West Side Story, Sweet Charity, Guys And Dolls, Company in Concert, Steel Pier, and Marisol, as well as commercials, videos and corporate dance shows. Choreographic credits include: Bed, Boys and Beyond, A Grand Night for Singing, Into the Woods, Barnum, A Chorus Line, Pippin, The Orange Bowl Parade, and industrial shows for Vioxx, American Express, Liberty Mutual and Amerijet.
Michael Scirrotto, a senior at New World School of the Arts in the Music Theater program, has stage credits including: Assassins, City of Angels, and She Loves Me, among others. He studied music, dance and theater for over ten years, has toured with the Radio City Rockettes, danced for Britney Spears, been featured in print ads for Coca Cola and TNT Latin America, and danced for Jerry Rivera.
Elizabeth Malm, a graduate of New World School of the Arts, was a featured soloist in a work by guest choreographer Michael Uthoff of the Arizona Ballet. Dance credits include: Momentum Dance, Karen Peterson and Dancers, Ballet Theater of Miami, the Florida Dance Festival and the International Ballet Festival. She has choreographed music videos, danced, and toured with Lenny Kravitz, Ricky Martin, Perry Farrell of Jane's Addiction, Beastie Boys, Lil' Romeo, Jay-Z, Baha Men, Carlos Ponce, Jaime Camil, Tito Puente, Sam Beam and Kevens, as well as commercials and TV shows for Samsung, Lays, Herbal Essence, Pollo Tropical, "Truth", MTV, BET, CBS, Telemundo and Univision.
Rafi Maldonado performed a principal role in first American contemporary ballet presented at the Ukrainian Opera & Ballet House (Kiev). Stage experience includes: Minnesota Dance Theatre, Ballet Arts of Minnesota, Ballet of the Dolls, The Boston Dance Company, and American Dance Company. He trained in San Juan, performing with Ballets de San Juan, and Ballet Concierto. He's received full scholarships and apprenticeships to Fort Worth Ballet, Joffrey Ballet, and The Boston Conservatory. He's taught dance at California University of PA, University of Nebraska, Summit Dance Studios, Midwest Youth Dance Company, and Metro Dance. Rafi will be choreographing Palladium on Broadway in 2005.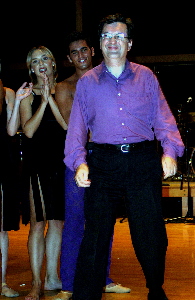 Accompanist David Nagy taking a well-deserved bow during curtain call.
Photos courtesy of Dennis Dean Images:  www.dennisdean.com

Biographies as of June 2004

Stage Managed by Kathleen Warr

The Matthew Shepard Foundation was founded by Dennis and Judy Shepard in memory of their 21-year old son, Matthew, who was murdered in an anti-gay hate crime in Wyoming in October 1998. Created to honor Matthew in a manner that was appropriate to his dreams, beliefs and aspirations, the Foundation seeks to "Replace Hate with Understanding, Compassion & Acceptance" through its varied educational, outreach and advocacy programs and by continuing to tell Matthew's story.